Store Your Farming Equipment in a Metal AG Building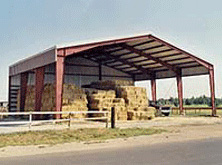 An old fashioned barn raising may sound like a lot of fun, but it's not very practical. Metal AG buildings from Metals Direct, Inc. combine modern materials and state of the art engineering with the economic benefits of a do-it-yourself project. Unaffected by blistering sun, icy hail or high winds, a metal AG building from Metals Direct, Inc. takes on the weather so your valuable equipment doesn't.
A Metal AG Building will Last and Last
What happens when the world's oldest office building gets an upgrade? The answer is etched across the landscape as abundantly as the fields, hills and plains. Metal buildings comprise 70 percent of newly constructed commercial buildings, including the agricultural building market. Find the perfect fit for your farm with American-made steel ag buildings from Metals Direct, Inc.
Prefabricated from 100% American made materials, everything you need for the complete AG building is included. Available as small storage structures or buildings big enough to contain the largest of farm machinery, our ag buildings are designed to provide the maximum amount of clear interior space. Extra wide doors of any style are also easily accommodated.